Rival: ri•val | rīvəl | noun
One who attempts to equal or surpass another, or who pursues the same object as another; a competitor.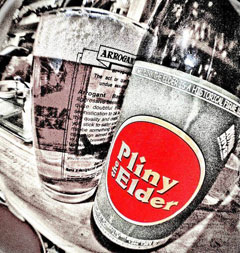 In 1994 Vinnie Cilurzo of Russian River Brewing created a double IPA named Pliny the Elder. Brewed with Amarillo, Centennial, CTZ, and Simcoe hops, this very popular beer rose to the top of every beer geek's wish list. Becoming one of the highest rated beers on Beer Advocate and Rate Beer, it seemed that Russian River's flagship double IPA is the best in the nation. The popularity of Pliny has far surpassed even the creator's expectations. "We had no idea it would take on a following like this," said Cilurzo. Without absolutely any advertising and marketing it took off on it's own and somehow many beer enthusiasts have claimed it to be the best beer they have ever had. Some say it might even be in the beer's name, explaining why it escalated in the ranks. Pliny the Elder was the man who discovered hops, which is obviously a huge mark in the history of beer and especially IPAs. So the historic name boasts a confidence printed on a semi-generic label and it screams out "I'M THE BEST". So naturally, everyone follows suit. But, maybe Pliny is just really that amazing and really the best, and the west coast will say proudly that there was no beer that rivals Pliny.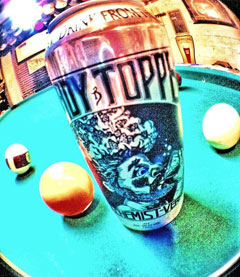 In 2003, a brew pub called The Alchemist opened their doors in Waterbury, Vermont. They had seven barrels of beer tapped and one of those delicious beers was named Heady Topper. By 2011 The Alchemist was able to expand to a 15 BBL cannery which in turn doubled the production of Heady. Among the crowded IPA market what is it that Heady has that the others don't have? What is it that helped this beer soar to the tops of the ranks? Co-Owner and manager of the brewery Jennifer Kimmich says, "It's all in the hops. Most of our hop additions are made very late in the brewing process so that we extract all the great flavors and aromas of the hops instead of boiling the heck out of the them to create an overly aggressive beer." Everyone who has quested for a Heady and enjoyed their spoils claims that they have never tried a beer quite like this, ever.
With the rise of Heady and the cult following of Pliny there was no second thought that these two insanely great beers should go head to head, west coast vs. east coast, Pliny the Elder against Heady Topper a Battle Royale if you will.
I was able to get my hands on both of these brews so I could conduct a blind taste test and begin the first of many Brew Faceoffs, this series is starting off perfectly. My wife poured each beer into a glass with me out of the room (so their is no bias interference), being from the west coast naturally had me rooting for Pliny, but I'm keeping this fair. 
Once I entered the room I was presented with two glasses of beer, both having obvious differences in color and clarity. I grabbed the closest glass to me and was welcomed by a smooth, citrusy, and hoppy brew that I claim to be one of the best IPAs I've ever had. Not knowing which one I tried I couldn't wait to taste the second, and with that in mind I eagerly grabbed the second brew, gave it a whiff and took a swig. An immediate rush of hops and citrus that was then quickly followed by a smooth linger had me on my toes.  With both beers in hand I felt like kid with two handfuls of candy. Unfortunately, I had to choose one beer and I'm honestly telling you with no bias ties and without contaminated judgement that Heady Topper won my heart, and won this Brew Faceoff. The extreme hoppy flavor that is absolutely immediate is what had me loving this beer. Don't think that I'm saying Pliny the Elder is a bad beer, it is one of the best around, but in my opinion Heady is better. These are two amazing beers and I had a great time analyzing and dissecting each one to see what brew would win the faceoff.
Cheers to Russian River for Pliny the Elder and cheers to the Alchemist for Heady Topper, two truly great beers.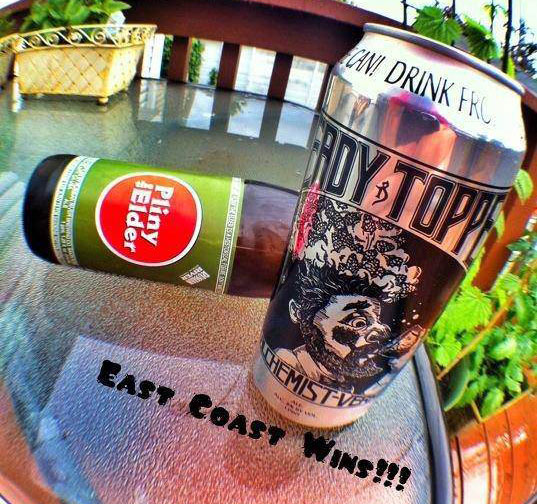 Tags: