Saturday July 13th, marked the one year anniversary of one of San Diego's newest and highly regarded breweries,Societe Brewing Co. These guys opened their doors to much anticipation, and they did not disappoint. Since day one, Societe has been brewing stellar brews such as The Butcher and The Pupil, just to name a few. I myself have always been a big fan of them, as have most everyone else in Southern California that has had their beers.  Travis Smith and Doug Constantiner, Societe's creators, both haves incredible resumes, coming from Russian River and The Bruery. This combination has resulted in some damn fine brews.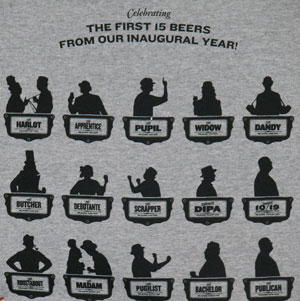 After a bit of confusion during their initial announcement of their anniversary fest, they produced one hell of a good time. Unlimited eight ounce pours of their fine elixirs, and a variety of food trucks and such that paired well with their beers. Their Roustabout DIPA was fantastic and the favorite of the lot, but their entire lineup was quite good and well-received. The Bachelor Mosaic was also a personal favorite of mine, but then again most of their beers are.  They produced 15 different and distinct beers in just their first year alone, and their massive sour beer barrel room leaves one's imagination dancing with possibilities of what's to come in the future.
Having the event broken into four separate sessions made it quite comfortable for all (I attended session one on Saturday). I was hoping for a taste of one of their sour projects, but soon enough I suppose.  If you have not made the trip out to see them, you're really missing out on some tasty beers.  I'm looking forward to many more years and beers from this brewery.

Tags: