It seems as though, every day, there are handfuls of breweries starting up. Some unique, some mirroring others or some that just plain raise the bar.
Hopworks Urban Brewery in Portland, Oregon is one brewery that set the bar pretty high with their proud world-class organic beer. They do absolutely everything to make sustainability a priority at their brewery; composting organic waste, collecting water with rain barrels, buying dairy milk for their restaurant, to giving the farmer their spent grains for his cattle. I was very Impressed with what HUB had going on and how much they loved the extra effort to protect "our" future with these thoughtful alternatives.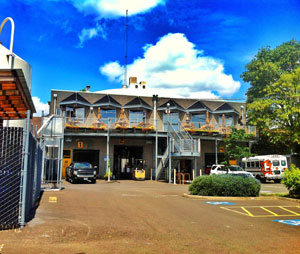 I had already learned and read about the major projects going on, and how important they were to the brewery's future. I drove from my home in Washington to Portland, Oregon to find out first hand about their sustainability projects, and the people behind it all. The reason for this Beer Qwest was to find out what little things they do and what drove them to do so.
Once we got into Portland I immediately noticed the copious amount of bicycle riders in the city, as well as the bicycle shops. Knowing that HUB was organic only, I instantly knew why Portland was the chosen location. With plenty of parking for bicycles and cars, and great outdoor vibes for those nice sunny days. I would have to say this is one of the best breweries I've seen in a long time. We were greeted by Speck the brewery tour guide. He gave us a tour of the facility while explaining to us how the little things to keep the brewery sustainable, may be more time consuming and not easy, but are very valuable to them and the community.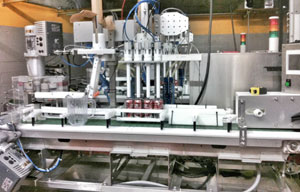 Here are some examples of those little things.
They receive all their grains by rail. No burning of fuel is involved in the journey.
They only use local organic ingredients in their beer and in their restaurant
Spent grains and yeast go to compost and to farmers.
Donations and services go to help for the conservation of the river fish in the oregon area.
More information about their creative process for improving sustainability could be found in their 
2012 Sustainability Report
.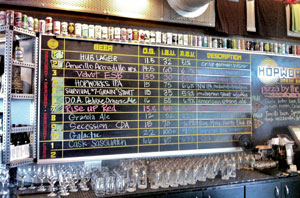 Once we were done with the tour, we headed to the tasting room. Speck had us try some great fresh brews while giving us great information, like how the sample cups we were drinking out of were all made out of corn, so they are completely bio-degradable. I just couldn't help but think of all the time and effort they put into such a huge project.
After drinking some samples and getting the first class tour, we began to get a little hungry. We went upstairs to meet the front to the house manager Patrick. He hooked us up with a booth next to the wall of beers were on tap. We were served 2 trays of one of each beer so we could have the best opinion of how good they taste. Sampling their 6 regulars and 4 seasonals was pretty awesome. There is nothing like sitting back enjoying some good beers, except for pairing it up with some good food and hearing about the organic relationship with the farmers. I felt it was necessary to try some of this organic food to taste it for myself.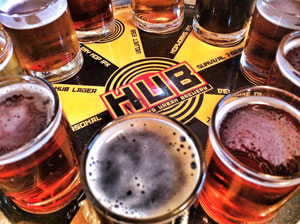 Of course, I ordered the "build your own" burger, my sister ordered a bleu cheese organic salad and my wife ordered some grinders. I would have to say that there was not a single complaint about the food other than, the distance we would have to travel to come back for more. My sister, being a cheese snob, claimed the bleu cheese to be the best she's ever had, so we asked Patrick where we could attain the cheese and he told us that not only do they have a relationship with a local farmer that they have one with Rogue Farms as well.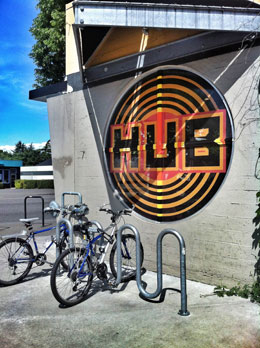 As we were winding down our visit with organic beer and food in our bellies, I felt humbled by the atmosphere that HUB possesses. I didn't really sit back and realize that the people that they cater to also cater to the brewery like a community within the community. "You scratch my back, I'll scratch yours" was a great way to explain how everyone at HUB organized their relationships with not only their resources but the people around them.

They have grown in this community by giving back with reforesting and helping keep the rivers clean. They opened a separate Brewpub called "Hopworks Bike bar" which, as you could guess, is just that. A 75 bike parking lot with an array of bike tools for use, bike friendly take-out food and plug-out spaces for exercycles. Their phenomenal efforts to create, support, and maintain the community and the protection of our future may be small and "not enough" to them, but from where I stand, which is on the outside looking in, I am inspired to do something about what I do and how I could use thoughtful alternatives in my daily life, which I could only imagine was the purpose of Hopworks Urban Brewery.

Tags: