I was in the Allentown Pennsylvania area for a conference and decided to visit the Two-Rivers Brewing Co. in Easton (just a hop, skip, and jump away) and very glad I did. Situated just outside the main square but on one of the main drags, this brewery had just finished getting its paperwork in order and, literally, just started serving their own beers.
They are situated in an old hotel, with the ground floor being the restaurant and pub area. It has a great ambiance, with a molded tin ceiling, very cool pivoting fans, an amazing antique curved bar and even an old antique switchboard. Great place to spend a warm afternoon. The food was pricey but not unreasonably so, especially when the burger came out measuring like 9" tall . . . I have a big mouth, but wow.
But the beers. . . That's what counts, right? They had five of their beers on tap at the time and I got a flight of the five. All were clean and crisp. The Pine St. Belgian blonde was very refreshing and light, even delicate, but while it could have been watery, it wasn't. I see on Untappd that some have found it to have an aftertaste, but I didn't get any of that at all.
The Guetter Island Pale was just as nice. A bit more robust, as I would expect, with really nice citrus notes and a great nose. Very balanced, but a touch hazy - no big deal. It's going in my mouth, not my eye!
The Batch #1 Session IPA was exactly what I would expect from an East Coast IPA - very balanced and easy to drink. None of the face-slamming hop bitterness that a West Coast IPA would have. I really enjoyed it.
The Banker's Brown Ale was a bit sweeter than I'd prefer, with a lot of malt and not much balance. Honestly, this was the only one I didn't really enjoy that much - it was the last one I finished.
The Danny Mann Irish Stout, on the other hand, was great. Very dry, decent mouth feel, and at 4.2% is a beer I could easily drink quite a few of and enjoy a nice conversation with a friend.
In all, I found none of the complaints I have seen from others. This was a very clean set of beers.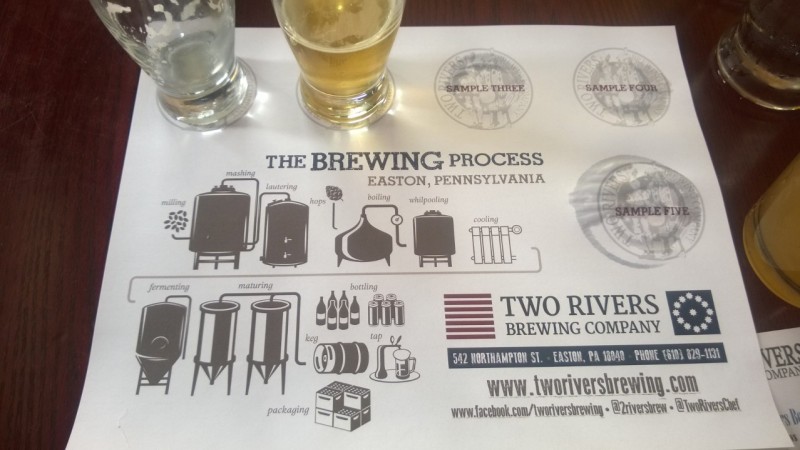 I was able to speak with the brewer and get a quick tour of their brewhouse. 7BBL with 6 fermenters upstairs and another 6 or 7 bright tanks up another level that feed directly to the taps. That's quite a haul, but they seem to have it worked out nicely. Everything was clean and shiny, everything was in its place, albeit shoehorned into its place.

The Lehigh Valley (Allentown, Bethlehem, Easton) area seems to have a nice little brewing community sprouting up in it. One brewery (Fegley's) has several location, but it's good to see a one-shop place up and running. Kudos to Two-Rivers and here's hoping they flourish!

Tags: