The grain that has enriched the air around me must be good for something other than making the beer. Delicate scents of chocolate and malt float by as I stare at a large pot of bubbling brown liquid and ponder what may become of this potion.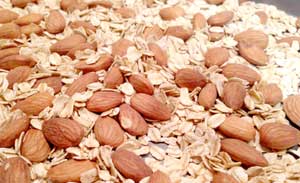 From the smell I can tell that this will be something to be craved. Each ingredient adds to the complex simplicity of the flavors that will be savored in a few weeks. But a few weeks seems so far away right now as I inhale these sweet aromas. What a waste it would be if these delicious smelling grains ended up in the rubbish. With some inspiration from BrooklynBrewShop, I knew that these leftover ingredients could be appreciated for all their worth. My love of granola bars was about to be increased to a whole 'nother level.
Get your fix of amazing gooeyness by following my adaptation of BrooklynBrewShop's Barely Snack Bars. Or by creating your own. You will not be disappointed by the flavors you are about to experience.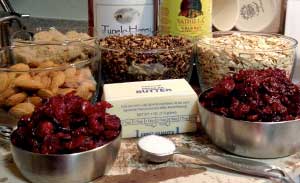 Ingredients
1 c old-fashioned oats

⅔ c raw almonds

1 c spent grain from brewing, dried

1 c dark chocolate chips

½ - ⅔ c brown sugar (depending on preference)

½ c wildflower honey

4 T unsalted butter

2 t vanilla extract

½ t sea salt

½ c dried cherries

½ c dried cranberries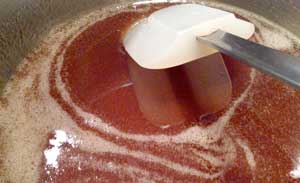 Directions
Preheat oven to 400˚. Toast nuts and oats for 6-8 minutes stirring halfway through.

Line a large (size depends of your prefered thickness) baking dish (or sheet) with wax paper and non-stick spray, or use a silpat, sprinkle evenly with chocolate chips.

Mix sugar, honey, butter, vanilla, and salt in a small saucepan and bring to a simmer, stir until well combined. Remove from heat.

Once nut/oat mixture is cooled, combine with spent grain and dried fruit in medium bowl. Allow sugar/honey mixture to cool slightly, then add to bowl and mix well.

Spread as evenly as possible over chocolate chips. Top with wax paper or silpat and use second dish to press down mixture and make it uniform.

Cool in fridge for a few hours or overnight and then cut and wrap individually. Enjoy!
Tags: