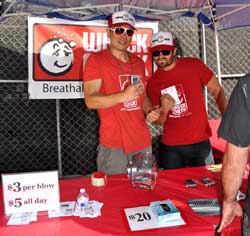 Last Sunday 55 Degree wine bar and the Link N Hops gastropub (along with the Atwater Village Chamber of Commerce) hosted the Atwater Village Festival in their adjacent parking lot. It was the first festival of its kind for Atwater Village which featured craft beer, wine, and food from gourmet food trucks as well as the regular menu from Link N Hops and the 55 Degree cellar. Entertainment was provided by DJ Poet and Delta Force (DJ for the Black Eyed Peas). The new, local Atwater Parlour had a booth set up where you could grab a coupon for future service and a hair trim to make sure you looked your best. Wreck Check was there providing breathalyzer service to keep track of your BAC as you enjoyed your favorite beverages.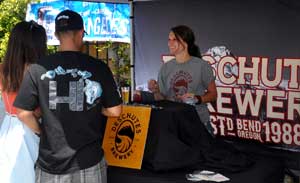 Craft beer was the star of the show with 13 booths set up. There was a presence from some of the biggest players in craft beer including Sierra Nevada, Lagunitas,Stone, New Belgium, Deschutes and Firestone Walker as well as local favoritesGolden Road, Eagle Rock Brewery, Hangar 24 and the Bay-area's Triple Voodoo Brewing. The area's newest breweries also had a strong showing from Angel City,Surf Brewery and Tap It Brewing Co. Although they weren't serving beer, the guys from Los Angeles Ale Works, LA River Brewing Company and Pipe Dream Brewery also had a booth. They were pouring delicious home brewed sodas and were more than willing to discuss the progress they have been making in bringing their passion of brewing on a big scale to fruition.
Between the breweries, there was a nice selection of styles to satisfy everyone's palate. Hop-heads like myself were kept happy with Stone's Ruinataion, Golden Road's revamped Wolf Among Weeds and the Angel City Brewing Angelino IPA. The Angelino IPA is brewed using 4 of my favorite hops; Citra, Nelson, Simcoe, and Nugget. Belgian styles were represented by Inception from Triple Voodoo, Sierra Nevada's Belgian-style Blonde IPA and New Belgium's Heavenly Feijoa Tripel. Lagunitas and Tap It Brewing both had stouts to satisfy cravings for dark, roasted beers and Eagle Rock's Manifesto wit-bier and Firestone Walker's Pivo Pilsner pair perfectly with the above 80 degree LA heat.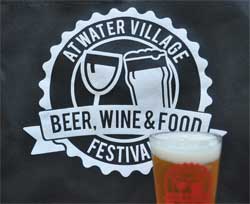 Entrance to the festival was $30 pre-sale and $40 at the door. A great deal which included your 4oz taster glass and 12 drink tickets. A limited number of VIP tickets to the event ran an extra $10, granted early entry, doubled up on the tasters at 24, got you a nice gift bag with the festival's logo, and gave access to the only available seating at the 55 Degree wine cellar. Designated driver tickets were $15 advance/$20 at the door and included a sausage sandwich and soda. No matter which entrance you chose, you definitely got your money worth.

Overall Atwater Village's first beer, wine & food festival was a hit. Great atmosphere blessed by the gorgeous southern Californian weather. Hopefully this is a regular event.

Tags: