Rain did not stop southern California beer enthusiasts from flocking to the beautiful city of Anaheim for the 2013 Brew Ho Ho Holiday Ale Festival. The Phoenix Club was the site of the festivities, complete with DJ Richard Blade from KROQ, bistro-style food and food trucks, as well as a veritable pantheon of craft brew and brew masters. Plus an appearance by the jolly ol' elf himself, Santa Claus.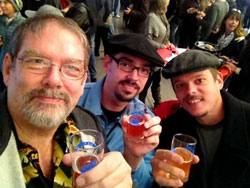 Along with an array of craft beer, there were many seasonals, first releases, and holiday ales. Stone brought their Smoked Porter with Vanilla Beans, along with Suede, Stone's Imperial Porter collaboration with 10 Barrel and Bluejacket. The hop heads were very pleased by SoCal Distortion IPA by Haven Brewing. Hoparazzi introduced their variety of sours such as La Tarte Christmas, their holiday sour with cranberries and calamondin oranges. The list goes on, but the star of the show was The Ghost of Jacob Barley, the collaboration ale by the joint efforts of Noble Ale Works and Beachwood Brewing. This enticing winter warmer is spiced with coffee and cinnamon, and comes in at 9% ABV. Needless to say, this specialty beer was an instant hit.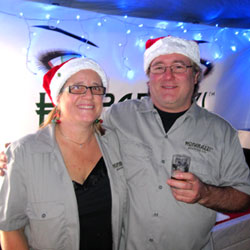 Such an incredible selection of craft brews would need to be complemented by an equally outstanding selection of food. Viking and Porko Rico food trucks were present and ready to cook. Brewcakes Dessert Gastropub enticed everyone to come try their delectable beer treats. Slater's 50/50 not only came with many delightful bacon-rich burgers, but also raised over $1000 for the Pediatric Cancer Research Foundation, as well as all tips received that day by the Slater's crew. And what better way to accompany masterfully crafted beer and food, than a cigar from Golden State.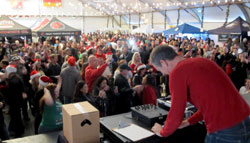 All of southern California's who's-who of the craft beer scene was in attendance and available to talk shop. Santa, accompanied by some of his closest supporters, was enjoying the wonderful winter creations and the dj's music at the main stage--a merry time was had by all. And all throughout the event, getting home safely was a high priority for the Brew Ha Ha team. Many patrons utilised a designated driver or public transportation. UBER offered $20 to riders for their first ride by registering with a promotional code. And of course Rudolph and the other reindeer made sure Saint Nick arrived back at the north pole safe and sound.

Like it's counterpart, Brew Ha Ha, this really is one of the best beer festivals of southern California. We at BeerQwest would like to raise a glass to the OC Brew Ha Ha team for putting on another fantastic event. We thoroughly enjoyed Brew Ho Ho 2013 and all it had to offer, and very much look forward to the 3rd Annual Brew Ho Ho.

Cheers!

Tags: