It's June 29th, 2013. Saturday. It's also hot, very hot. Within my grasp is cool, comforting, refreshing beer. Not just your run-of-the-mill, run down to 7-11 and grab a six-pack of Bud Light or some MGD 64.
No. This is craft beer. Not made in 3-story tall tanks and canned by the millions, but artfully crafted in small amounts as little as a few gallons at a time. The craft beer movement is all encompassing. It's not just in big cities or only in small town America, but an entire country pre-occupied with making the best beer available. There are so many venues, festivals, pubs, brew clubs, breweries, tap rooms that anyone in search of fine beer is able to find it.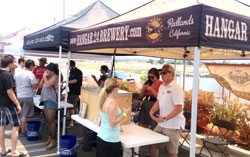 So here at BrewGrass, I was not disappointed. I was able to taste and savor some absolutely phenomenal brews by such groups as Ripperside Brewpunx, Riverside Home Brew Crew and Brewluminati. Let's not forget our hosts Packinghouse Brewing Co., and other local breweries such as Craft Brewing Company, Ironfire Brewing Co., Noble Ale Works, Hangar 24 Brewery and the list just goes on.
It's not just about spending the day drinking beer. You can do that anywhere. It's the people you meet.
I tasted brews with names like; Victoria Orange Blossom, Coconut Porter, Bonus Cup Coffee IPA, 51/50 IPA, Off the Grid Imperial Red and a Cherry Wit-bier.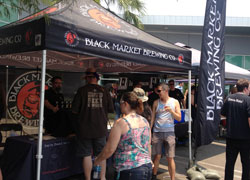 This combination of Brew Clubs, Breweries and Beer can only make one want more. There are food trucks to help balance out the drinking, the sun and the beer. That's not what I meant though. At any event such as this, one can spend a great deal of time watching those who attend these gatherings. It's not just about spending the day drinking beer. You can do that anywhere. It's the people you meet. The stories of brewing that one beer that everyone talks about. Maybe it's that one little ingredient that changed your IPA to an unforgettable brew that you can't wait to taste on a regular basis. There is a camaraderie amongst those who brew and those who love beer. There is a sharing of ideas, recipes, ingredients and above all knowledge. I found people who share what they know with those who want to know. I think that's what sets events like this apart from other types of groups. Beer, craft beer to be specific, has been making great inroads in a country that seems to be all about the bottom line. It's a simple process that anyone can do, yet yields a complex drink where no two are alike.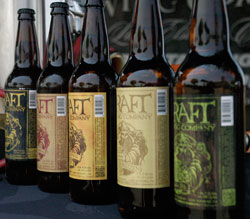 A while back, I was at a beer bloggers group meeting where a speaker was talking about the craft beer movement. I'm sorry that I've forgotten his name, so forgive me. What he said was, today beer is getting back to normal. What he was talking about was this; before World War II, most beer was made locally, maybe just in a neighborhood. You probably couldn't find your favorite beer outside of your town. It was unique and brewed on an as-needed basis. Since then, larger breweries have taken over smaller breweries and to meet demand have taken short cuts to mass produce beer so it's the same anywhere in the county. You know them as Coors, Miller, Budweiser, Corona and the like.Now with the craft beer explosion we are almost back to the normal way beer should be, was meant to be.

If you like or love beer, you owe it to yourself to take part in a festival such as this. You'll meet new friends, find new taste sensations and see what you've missed by only thinking that Bud is the King of Beers.

Tags: