My latest quest brought me deep within the suburbs of Riverside, California, to attend a special gathering--a gathering of the minds. And not just any minds, these minds swim through recipes of great beer. Always thinking about the next bubbly batch and what's going into it. This was a meeting and exhibition of the Ripperside Brewpunx, the local brewing club based out of the Riverside area. From honey brown to IPA to golden ale, the Brewpunx came out in full force, and ready to share their delightful creations with friends and family at their own private beerfest: Homebrewtality 3.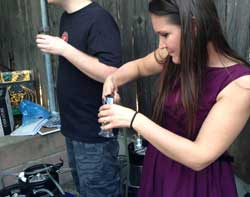 The Brewpunx were not only ready to share their hand-crafted beer, but were also ready to share any knowledge they have of brewing, including tips, tricks and how-to's. I spoke with one of the female members, Cheryl Tomayo, who featured an orange-vanilla pale ale she rightfully named Dreamsicle at a 6.9% ABV. It was exactly as she described, "[It] tastes just like it sounds: creamy, rich and refreshing."
In attendance was The Blood Orange Infoshop, a collective of artists and activists. They collaborate to provide a non-commercial space for art exhibits, performances and free education. For this event they provided several batches of vegan chili. After enjoying your third bowl of homemade chili, from a slew of crockpots, one is in desperate need to head back over to the pouring area right away.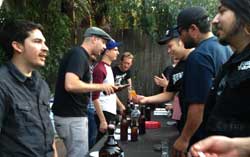 Eric Marshall, the man behind the BP artwork, concocted a delightful honey brown—deep, dark, sweet, and complimented the chili nicely. John Ryti went all out and created Thor's Hammered. Calling this brew a 'strong ale' would be a gross understatement. This russian imperial stout came in at 16.3%, Thor's Hammered delivered big on taste and flavor. Homebrewtality offered variations on IPA's, golden ales, stouts and many others. All were incredible, and the immense amount of time, effort and preparation could be tasted throughout.
I believe Homebrewtality 3 was a wild success. Chili was devoured, and lots of beer was enjoyed. But what's more is this whole home brewing concept is not only catching on, but it's enduring, and thriving. There was a cheerful din throughout the evening, as the patrons enjoyed imbibing the beer as much as the brewers enjoyed creating it. This connoisseur looks forward to the future of this brew club, it's upcoming brews and the next Homebrewtality.
Cheers!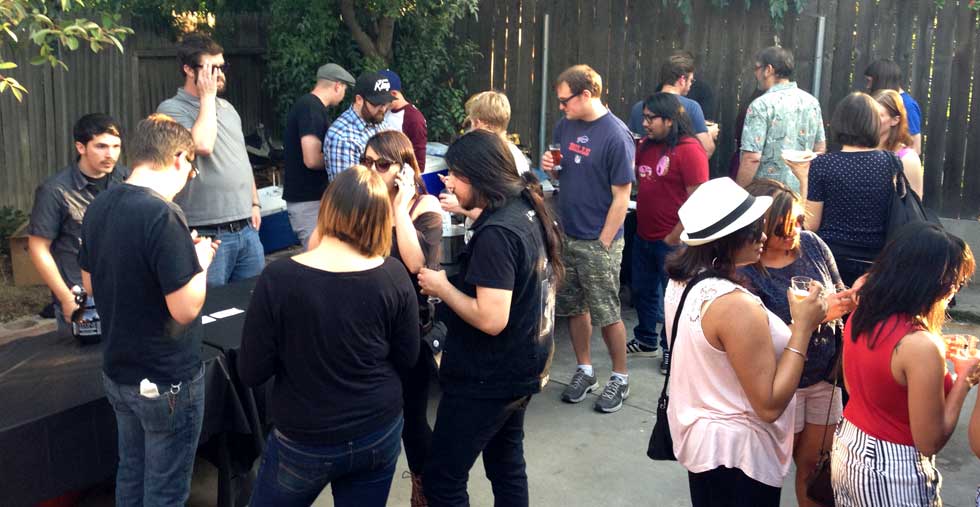 Tags: