Micro-breweries are popping up on the map faster than most people expected. A great way to discover these new breweries is at festivals that give everyone in the community a chance to meet the breweries and try their new beers. Gig Harbor, WA. held their 2nd annual beer festival on a hot Saturday in May. 1,250 attendees soaked up the sun and soaked up the suds, as 18 northwest brewers served up the event-goers with a variety of familiar and some exciting new brews.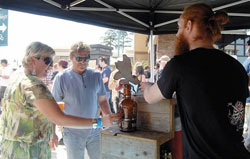 The festival featured 18 local and popular breweries who drew a large crowd to the cozy venue, it was almost shoulder to shoulder with little shade. I noticed all the breweries carried their flagship beers in their arsenal of brews, I was hoping for some new, rare, or even just unique beers but found myself at home with the familiar bunch.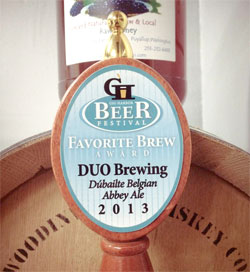 I brought my wife and my father out to Gig Harbor and there was beer to drink. My father couldn't stop raving about the abbey ales that he was finding, especially the Dúbailte Belgian Abbey from DUO Brewing out of Puyallup, WA. An abbey ale brewed in whiskey barrels, he declared it his favorite and everyone agreed since it won the Favorite Brew award. My wife has been dipping her toes in the water with the paler side of the beer spectrum, mainly wheat beers and citrusy summer brews. She couldn't get enough of them, while my favorites were the amazing IPA's that the brewers highlighted.
I spoke to John Fosberg, Event Coordinator of the Gig Harbor Beer Festival, he shared information on a possible expansion for next years festival, "We had approximately 1250 people at this year's a event -- and it was a tight fit. Next year we're planning on more brewers, food, and bands, and we are currently working with the city of Gig Harbor on the possibility of a new larger venue space. Look for more info on that toward the end of the year."
I anticipate what the results of growth will bring for 2014's beer fest because Gig Harbor is a city that I see hosting something big and exciting. Here's to the Gig Harbor Festival and to next year.
Featured Breweries:
7 Seas Brewing, Gig Harbor, WA
Alaskan Brewing Co., Seattle, WA
American Brewing Co. Edmonds, WA
Big Al Brewing, Seattle, WA
Dicks Brewing Co., Centralia, WA
Duo Brewing, Puyallup, WA
Elysian Brewing Co. Seattle, WA
Georgetown Brewing Co. Seattle, WA
Harmon Brewing Co., Tacoma, WA
Hood Canal Brewery, Kingston, WA
Ninkasi Brewing Co., Eugene, OR
Odin Brewing Co. Seattle, WA
Rainy Daze Brewing Co., Silverdale, WA
Ram Brewery, Tacoma, WA
Silver City Brewery, Bremerton, WA
Sound Brewery, Poulsbo, WA
Valholl Brewing Co., Poulsbo, WA
Wingman Brewers, Tacoma, WA
Tags: