Last weekend marked the 4th Annual OC Brew Ha Ha craft beer festival, where hundreds of craft beer fans gather to celebrate the craft at Oak Canyon Private Park. The beneficiary of the day's event was the Orange County Fallen Firefighters Relief Fund.
Being this was my first venture out to a Brew Ha Ha, I already had reasonably high expectations. I was told by friends how this event was in a class above your average beer fest. So I arrived knowing the basic points of the event; over 70 breweries tapped to pour 175 craft and import beers, a small army of food trucks and local restaurants set to feed the masses, as well as a performance by Reel Big Fish.
Attendees arrived to free parking and a commemorative 4oz festival glass. General admission received 10 pours and VIP attendees were given 15 pours, 1 hour early admission and an exclusive session about beer appreciation by Stone's Bill Sysak. Water bottles were given out like candy and refill stations were never too far away or crowded.
The highlight of an event like this is really the breweries, and many breweries took note by providing some of their best or most popular beers. Noble Ale Works served up their Naughty Sauce, a light milk stout with a robust coffee flavor. Bootleggers not only brought out their Knuckle Sandwich, a fan favorite Double IPA, but proceeded to pour a delicious Triple IPA once Knuckle Sandwich was gone.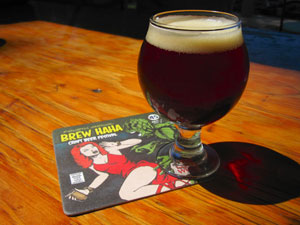 One beer that stood out among the rest was a Double IPA made specifically for this event called Hop Monster. A collaboration between OC Brew Ha Ha, Tustin Brewing Co., Cismontane Brewing, and Bootlegger's Brewery. Hop Monster was one beer I wouldn't mind if it was available all year round. In fact I'm enjoying a class of Hop Monster as I write this, it was so good I ran out to my local bottle shop to pick up more.
There was a tangible appreciation for craft beer and the people who make it.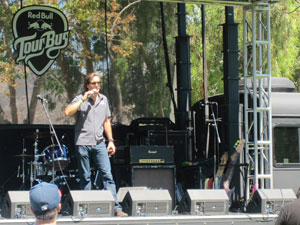 Brewery owners and brew masters could be seen walking the venue with attendees. I was able to talk to Noble's Evan Price, Haven's Brian Thorson, and Ron Gordon from Wicks Brewing Co. among others. David Walker from Firestone Walker along with Greg Koch from Stone Brewing Co. also made presentations with insight into the industry covering brewing and fermenting techniques.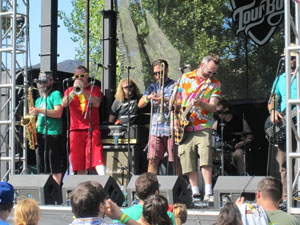 The Red Bull Tour Bus was also a valuable addition to the event. Providing the people with good music. This was noticeably the best setup I've heard. Typically at a beer fest I find myself too close or too far away from the sound stage with blaring or near silent results, not here. Closing down the stage was local Ska band the Reel Big Fish playing until last pour to a lush crowd.

There is a long list of reasons why this event is so much better than many so-called beer fests out there. The music was present without demanding attention, there were countless food vendors, 70 breweries brought some of their best beers. Most of all there was a tangible appreciation for craft beer and the people who make it, and that's why I'll be going again next year.

Tags: