I lost. Well, when I say that "I" lost, it's me and my wife, Cyndi. Yep – we lost Hop Wars.
But I don't feel bad. Okay, maybe a little. It was fun, though. Let me tell you about it!
Hop Wars is a contest put on by
Phantom Ales in Anaheim
. The way it works (the way it works now, anyway – Robert is making it evolve and get better) is that four homebrewers come in on a weekend and brew a batch of their own beer on their pilot Sabco brew system. Ingredients are supplied by Phantom (unless it's something they don't stock, in which case you have to bring it yourself.) They ferment it in their Sabco fermenters (really fancy Sanke kegs) for four weeks and then put the resulting beer on tap for a weekend. Scores are submitted by customers and the top two from the weekend move on and brew again against other winners, and so on until one is crowned the winner.
No BJCP guidelines. No submitting bottles and hoping they stay cold or whatever. Just serve your beer on tap and hope people like it!
Sound good? It really is.
The day starts fairly early. I arrive at Phantom and start measuring out my ingredients list. It's a chocolate oatmeal porter and they have everything but cocoa powder, which I brought. They ask for the recipe so they'll be sure to have everything in stock and, yep, they do. All measured out and ready. Jack has the strike water ready to go so it's mash-in. The Sabco system is really top notch, recirculating the mash nicely, and it's now just wait.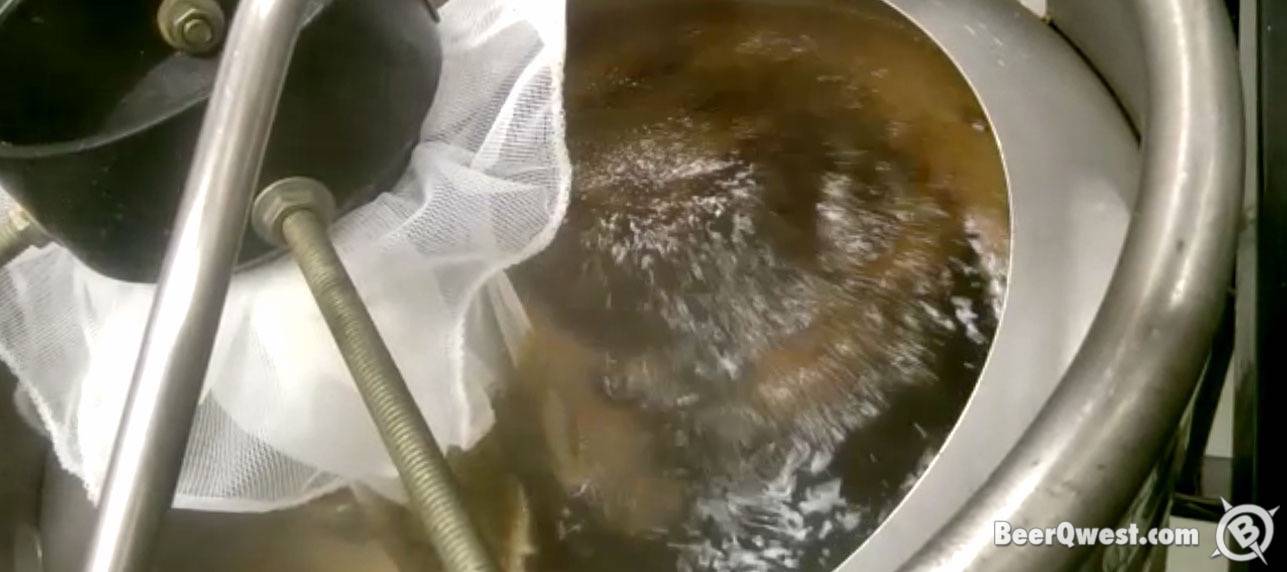 Boil is similarly drama-less. Drop the hops into the hop-spider and get the cooling rig ready to go. They have a nice oxygenation system in it which works really well. Straight into the really fancy Sabco fermenters with the yeast and that's it! They pull out the yeast at two weeks, so even that is completely smooth.
The competition starts on the Thursday, about a week and a half after brew day. My beer and my competitor's beer (which was brewed the afternoon after me) went on tap. I was to get as many people to come and consume, which she did a better job than I did, but then she's local and I'm out in Riverside. All of those who partook put in a score sheet (1-10 for her and for me) and after the weekend, they total them up.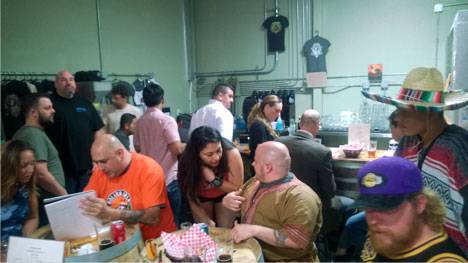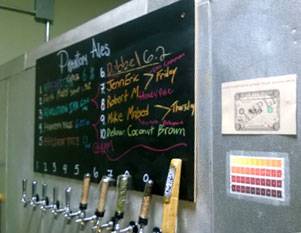 Hop Wars Day @ Phantom Ales

While I didn't win, my beer got quite a bit of exposure. A lot of people who had never had Chocolate Palomino got to try it. There were a few hitches, though. First, my beer was not served optimally. Being more of an imperial stout, it probably should have been served a touch warmer and not in a pint glass – as cold as it was served, it never got a chance to shine. My beer also was undercarbed, for some reason. Second, the contest is really one of popularity more than quality. If you can get 50 people to come out, you will win. There needs to be some kind of blind element.

However, those don't take away from the fact that it's a FUN contest and one I'd enter again. Heck – it didn't cost me anything, I got to make beer, and my friends got to drink it. Really, how much more can I ask?

Tags: