Slater's 50/50 just opened their first restaurant in the Inland Empire. Located at Victoria Gardens, near Day Creek and Foothill Blvd in Rancho Cucamonga. The chain is famous for their 50/50 ground meat patties, the signature mark of owner Scott Slater, and their great selection of beer.
If you're the kind of person that really enjoys bacon, burgers, and beer, this is the place for you.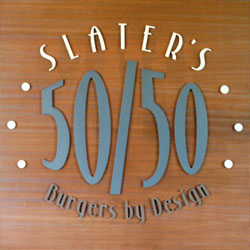 It is 2009 and Slater's 50/50 started off in Anaheim Hills with 1 signature feature, hamburger patties with 50% ground bacon and 50% ground beef. 4 years later business is booming, with 6 locations the momentum of interest continues to grow. The quality of their ingredients can be tasted in their flavorful food. Just recently they've even raised the bar by sourcing their meat from quality stock yards. Their new beef is all-grain fed, no hormones are used, and antibiotics are only administered at birth. This attention to quality is a big win for customers at every location.
I have been to Slater's in Anaheim Hills and Huntington Beach and found myself to be a huge fan of the company. This location offers over 100 taps, from breweries all over California likeHangar 24, Bootleggers, Ritual, The Bruery, Stone, Lagunitas, Firestone Walker, Green Flash, and so many more. The serving staff is cicerone certified, providing help with food pairings along with detailed information on each beer.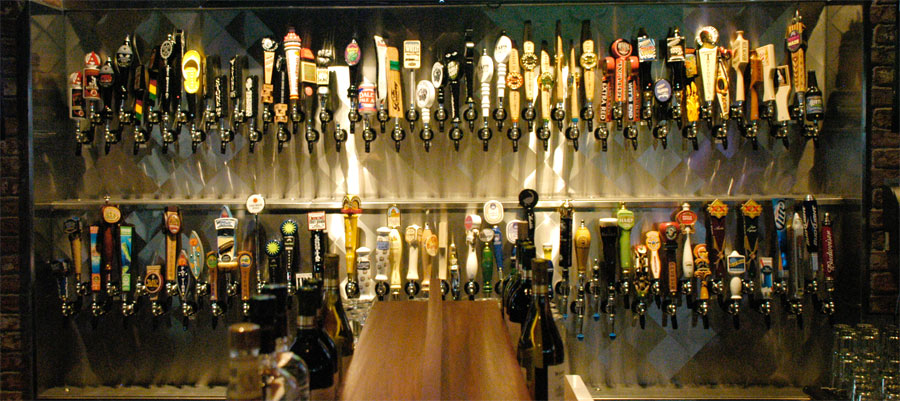 If you're the kind of person that really enjoys bacon, burgers, and beer, this is the place for you. With locations in Anaheim Hills, Huntington Beach, Lake Forest, Pasadena, San Diego, and now Rancho Cucamonga. Anybody in Southern California is just a short drive away from having a great burger paired with great beers.

Tags: