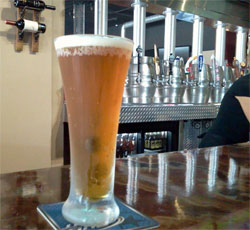 The highly anticipated and long-awaited open of D's Dogs in downtown Riverside has finally become reality. I stopped in today while they did a soft opening lunch shift. I had heard many great things about this place, which had been mired with delays for quite some time, and was eager to give both their food and their beers (they have 38 tap handles, almost all of craft beer) a try.
I was not disappointed by either their food or their tap list. Their draft pricing is incredible, with pints costing a mere four dollars. I was quite amazed at that alone, and these weren't bad beers they had on. Local breweries Packinghouse and Hangar 24 we're well represented, with other local breweries coming on in the near future. The lineup overall was quite solid.
If in the area, or even if your arent, I would definitely check this place out.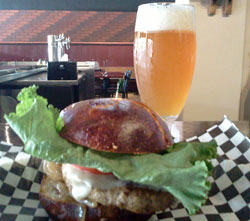 As far as food, I only had their turkey burger, but I saw a variety of delicious looking dogs and burgers coming out to the various other patrons there with me. My food was very tasty, and I look forward to trying their other options, as their specialty dogs and burgers, such as the Mac Dog, which is topped with smoked gouda mac n cheese, bacon, and their chipotle cream sauce. These guys really went all out to have a very unique menu, and they succeeded.

Overall, this place is really going to be something. For being their very first day, the staff both at the bar and in the kitchen seemed to have good working chemistry and I didn't notice any errors or blunders. The food is already on point, and their beer buyer has good taste in beer. If in the area, or even if your arent, I would definitely check this place out.

Tags: